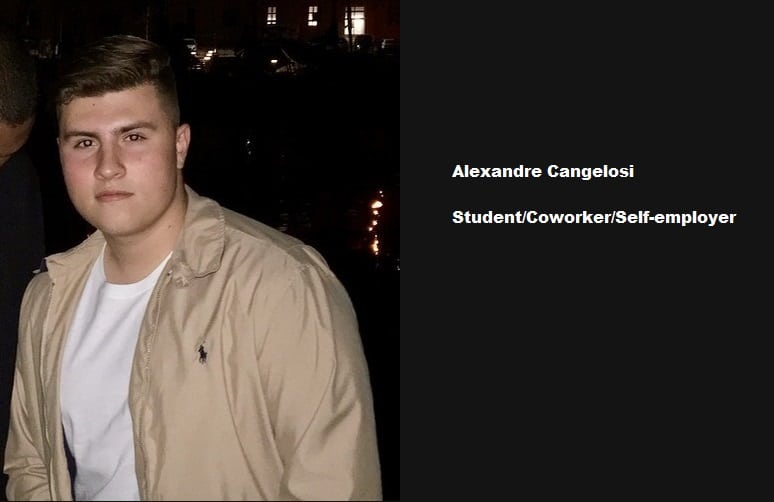 1. Who are you?
Alexandre Cangelosi, a 20-year-old student/coworker, has been studying Business at IUT-TC in Nice,having obtained a bachelor degree of Economics already.
Starting working in the summer when he was 18, Alexandre is doing a 2-month internship at AdQuality finished in May.And he will do one extra month, working as an employer at AdQuality in June .After that,  Alexandre will probably seek another internship or job during the rest of summer, before going to school in September. In the meanwhile, as a self-employer, Alexandre is also selling and buying sneakers.
2. What are you working on?
AdQuality is a young and international company, located in Paris, Istanbul and Nice(Villeneuve Loubet). With 15 experts of Google AdWords of 7 different nationalities, this company is managing advertisements on all online media :search engine such as AdWords, Bing and Yandex; Social media like Facebook, Twitter and LinkedIn; and some other display websites such as Retargeting, sponsored ads like banners , Real Time Bidding and etc.
Alexandre said:"AdWord is a new market and social media is changing , so AdQuality is essential to help their customers who cannot manage this new market and changes themselves." "In addition, AdQuality is helping companies to increase not only their turnover but also their reputation." Alexandre added.

These are four members of AdQuality at terrace of COOLWORK, the one in black at left side is Alexandre Cangelosi
3. How do you like COOLWORK?
COOLWORK is a great place, a community, where people can not only speak to their own company members, but also speak to people from different companies. The atmosphere is just awesome as people/coworkers get along with each other like family , having lunch together every day with beautiful seaview.
"For a company with two employers and two interns, it is not that necessary to have their office and space so far,especially at this expansion period" Alexandre said, " so our boss Maurice, chose COOLWORK, one of the most beautiful coworking space in French Riviera, to have a private office for working with high flexibility at a reasonable price."