Coolwork , a coworking space operator based in Villeneuve Loubet, belonging to Provence-Alpes-Côte d'Azur region in southeastern France ,created in 2015.
People  start their day with French greeting "Bonjour! ça va?" in the morning just like at home, at school with your families and friends.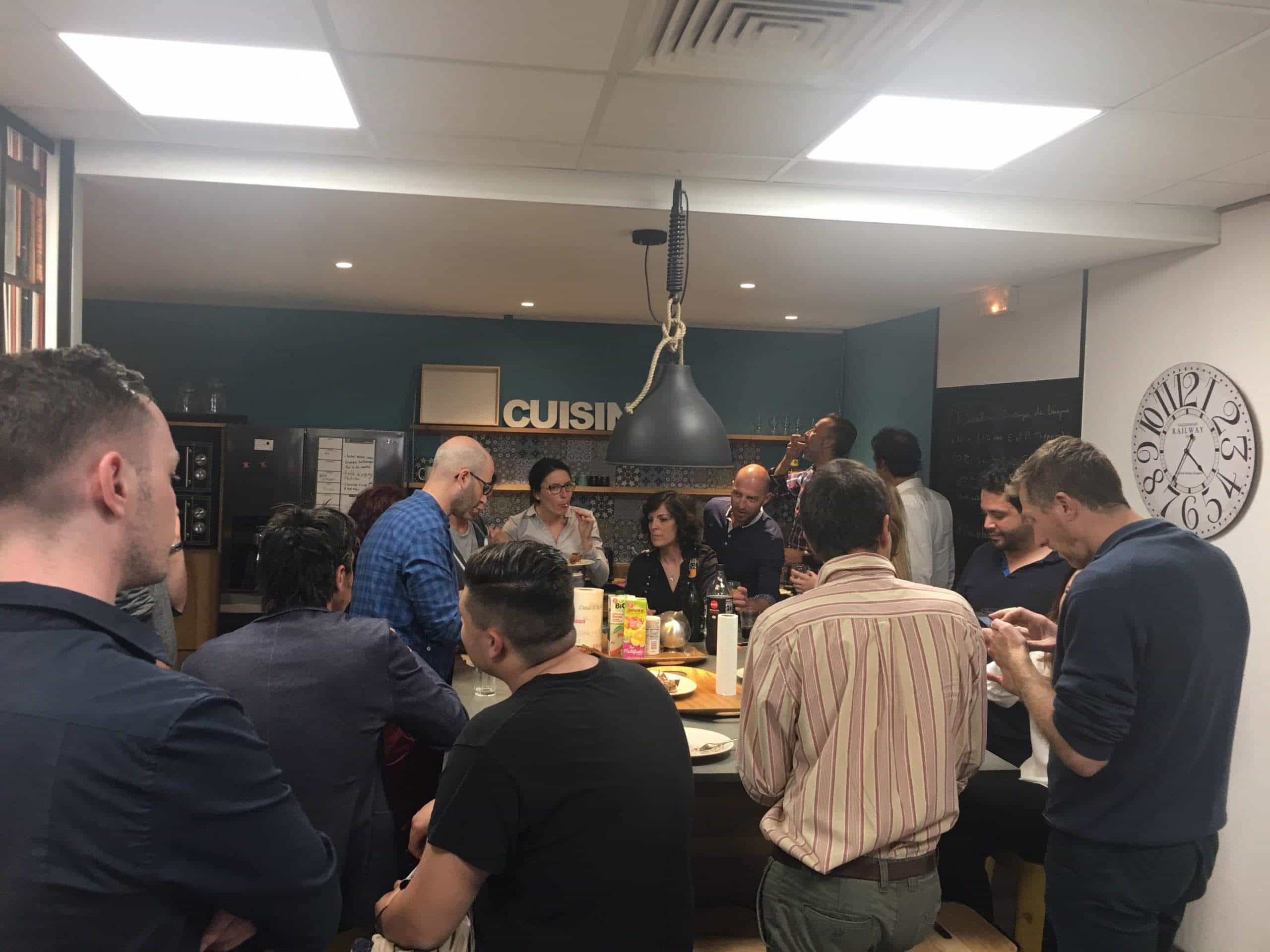 People celebrated for Lionel and Virginie's birthday at Coolwork, coworking space in Villeneuve Loubet
During lunch, tables are available both inside kitchen and outdoors at the terrace with wonderful seascape. People are sitting as family members talking and laughing while eating. Besides, people can use two microwave ovens in the kitchen to heat their food.  Or, if you do not bring your own food, the easiest way is to order it from the menu offered by a local restaurant at around 11 am inside the whatsapp group, getting it with free delivery around 12.
Apart from those, whenever you meet a problem, there are some one you can ask for help and would like to give you a favor. Coworkers in Coolwork are from many different industry and from different countries, so they can speak French and English. The most important thing is that, Lionel Lellouche, manager of Coolwork, can speak  English well .Therefore, there are some English-speakers who love the beautiful seaview and nice weather work at this space.
Last Thursday, people  gathered together to celebrate two people, Lionel and Virginie's birthday at the kitchen of Coolwork , one of the most beautiful coworking space in French Riviera.
"Yes, all people is very nice here, we feel like that we are a family ", Stephanie said, a coworker who has been working at Coolwork for one year.
In addition, every Thursday is "breakfast day", Lionel buys some local breakfast from bakery in the morning along with some juice.
When you feel a little bit tired ,go to get some free coffees ,teas and some other soft drinks in the kitchen . To get your pressure release, you can take some free yoga exercise. Strong and stable wifi is necessary and essential in this place . In a word, you can enjoy almost everything in Coolwork just like at home.
Interested in Coolwork ?