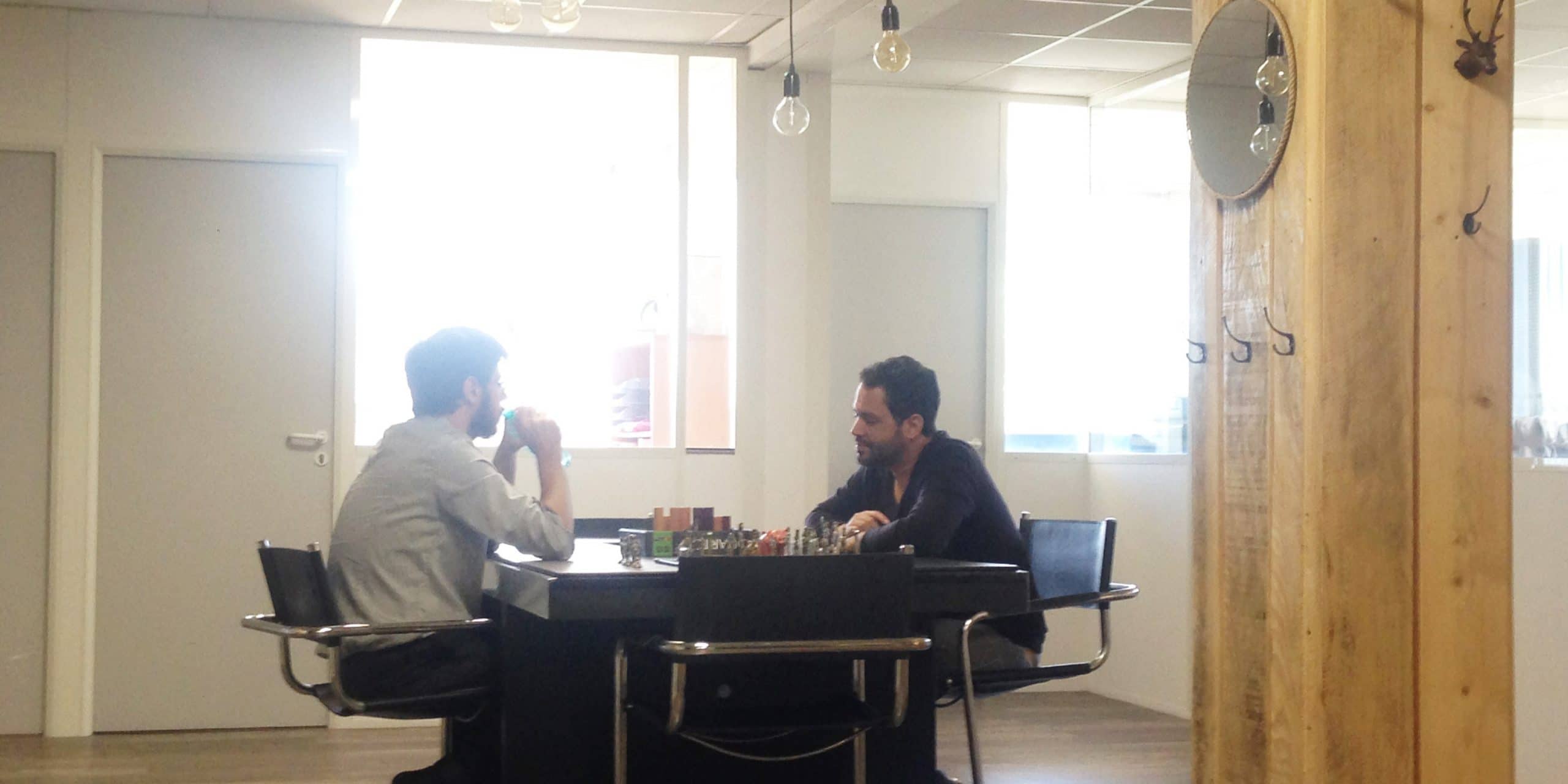 With the development of coworking space industry , it is of great significance to put attention to the increase group of coworkers. As is well known, coworkers consist of freelances, entrepreneurs, startups. And they are working in a competitive environment too.  Thus, those people do need have something to relax themselves during break time.
Michaël (on the left of the picture) works on web development for Next-Wireless, while Charles (on the right of the picture) is a Sales & Marketing Manager from NCP Consult, they are playing a board game during break time in this picture.
Michaël and Charles, they two are typical who are working on the computer the whole day. Hence, it is extremely important for them to relax their body both physically and mentally. Game is one of the best way to do so. That is why we could have this picture of which they are focusing on a chess game.
This happened in a coworking space, Coolwork, which lies between Nice and Cannes. In fact, Coolwork located in Villeneuve Loubet with very convenient transport and beautiful seaview in French Riviera.
Coolwork considers itself as not only a coworking space but also a community. Therefore, the atmosphere here is super wonderful. As everyone gets along well with each other like friend,  like family.
During break time, coworkers like gathering together to do something relaxing. For instance, some of them like to talk with others at the terrace of Coolwork with a cup of coffee; others might play some games with others such as chess, ping pong, backgammon… and etc.
These games are really helpful and useful to release people's pressure. Through these, people can also know more about each other. Since it is a great chance to communicate with people and to discover their different personality.
Sounds interesting ?
You can get more information via the social media account :
Or via the website
You can even come at:
287 avenue Bel Air 06270 VILLENEUVE-LOUBET